News
Splendid news to help serve our customers better… Our sea can transportation and hauling fleet is growing!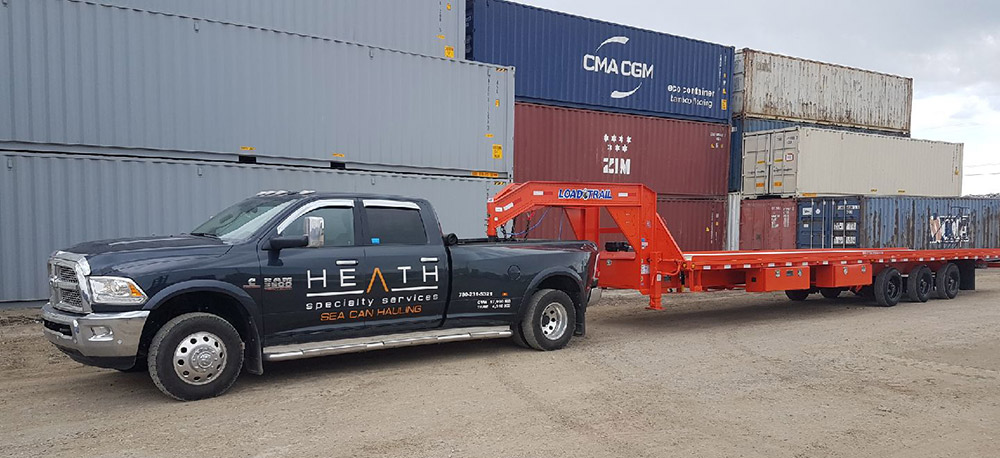 Heath Specialty Services specializes in the delivery of 40′ and 20′ empty or loaded sea cans and shipping containers straight to the ground.
Our #1 priority is your sea can delivery since we only haul sea cans. Heath does not sell or rent containers, we are fully committed to your sea can delivery.
Heath is your one stop shop for sea can and shipping container delivery, any size, any location. Give us the job and we will coordinate and trouble shoot every aspect of the move. If you require other equipment to be moved, we can certainly help you out! We use one ton dually pick-up trucks to transport sea cans throughout Western Canada with bases in both Edmonton and Calgary. Without the costly use of cranes or deck trucks, Heath Specialty Services keeps your costs to a minimum. Heath prides itself in having the largest gooseneck trailer fleet in Alberta, this way we can accommodate most deliveries within a few days. Our 10 specialized trailers are able to access a variety of locations to make your shipping container/sea can delivery a smooth one.
In the upcoming months expect to see a couple of new trailers in the mix! Heath has acquired 2 NEW full-tilt trailers to meet our customers demand for off- loading sea cans directly to the ground. Our fleet is constantly being upgraded and maintained to the highest standard to serve you better! Our unique approach to sea can delivery keeps our customers coming back. Please give us a call, no job too big or too small for Heath Specialty Services.
Hot off the press… our new addition to the fleet… 38 foot Full- Tilt !